Star Traders: Frontiers Update #3: Deck Clearing!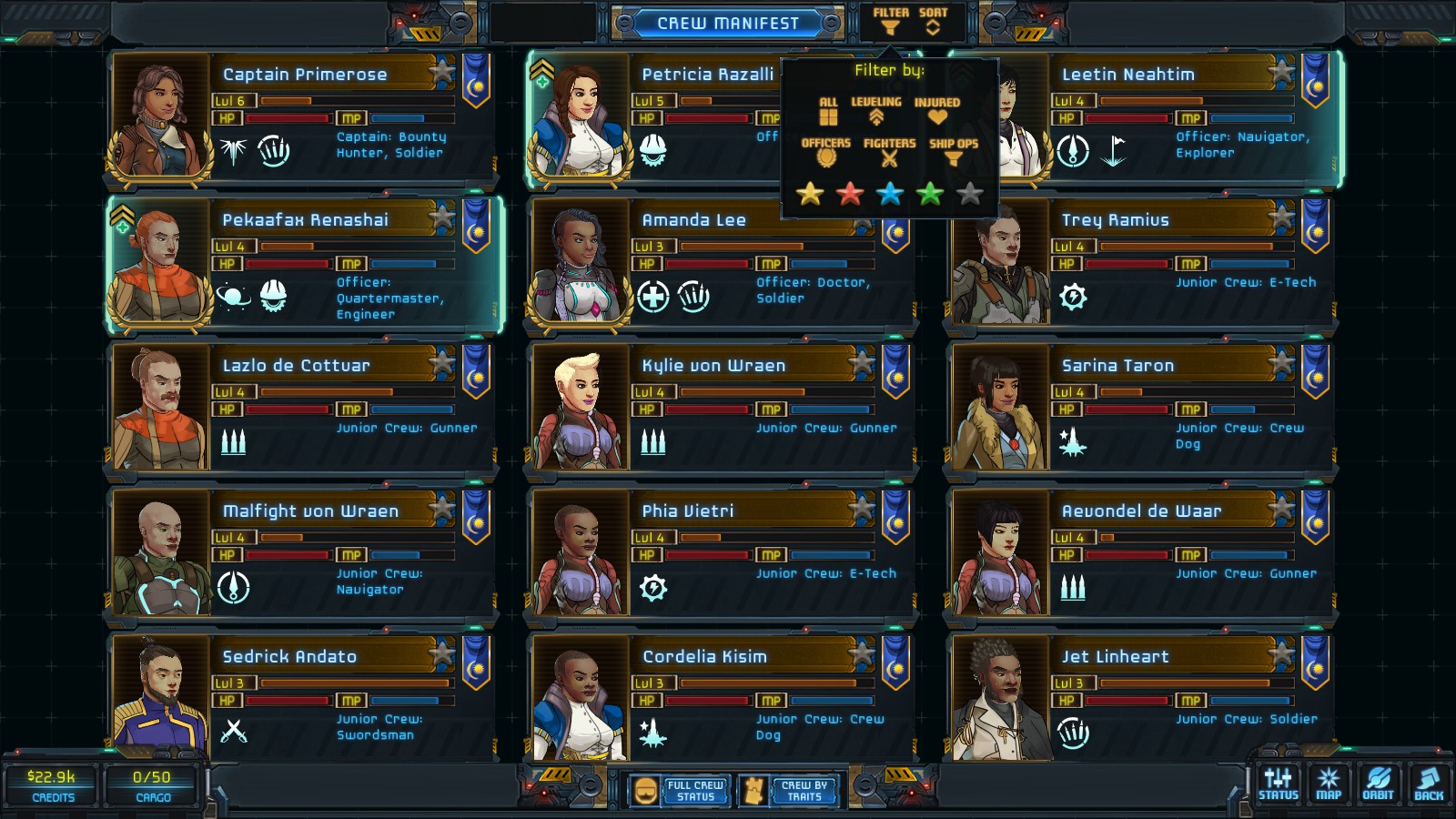 Be sure to use your leveling filter to quickly pick and level crew
Captains!
Star Traders: Frontiers
is still 20% off on Steam! Get your copy today and ply the void for fortune and fame.
You're feedback and reviewers have delivered another release.
Keep it up! With this release, we are working hard on a host of smaller UI improvements, game balance, Rep system tweaks and the final small scaling fixes. We have also closed all reported story bugs and crashes. Please report if you hit any snag!
Rep Intricacies
With your help, we've added some exciting new depth to the Rep system around looting goods from enemies and how pirates act when encountered in space. First, you can now loot and steal fuel from pirates with impunity -- no Rep damage is caused. They're pirates! Second, if you steal biowaste or scrap metal from anyone, there is no rep damage. Third, if you steal goods that require a permit from a Smuggler, there is no Rep damage -- the Captain can't really report theft of goods he or she was carrying illegally!
Finally, Pirates aren't willing to pay Tribute anymore. They don't like your offer for protection and their crew would view them as weak.
New Combat Talent
We've added Blowback, a great new Soldier Talent for shotguns that can be used only from the very front. It fits well with Roaring Barrels, Grenades, and other frontline buffs. Boom!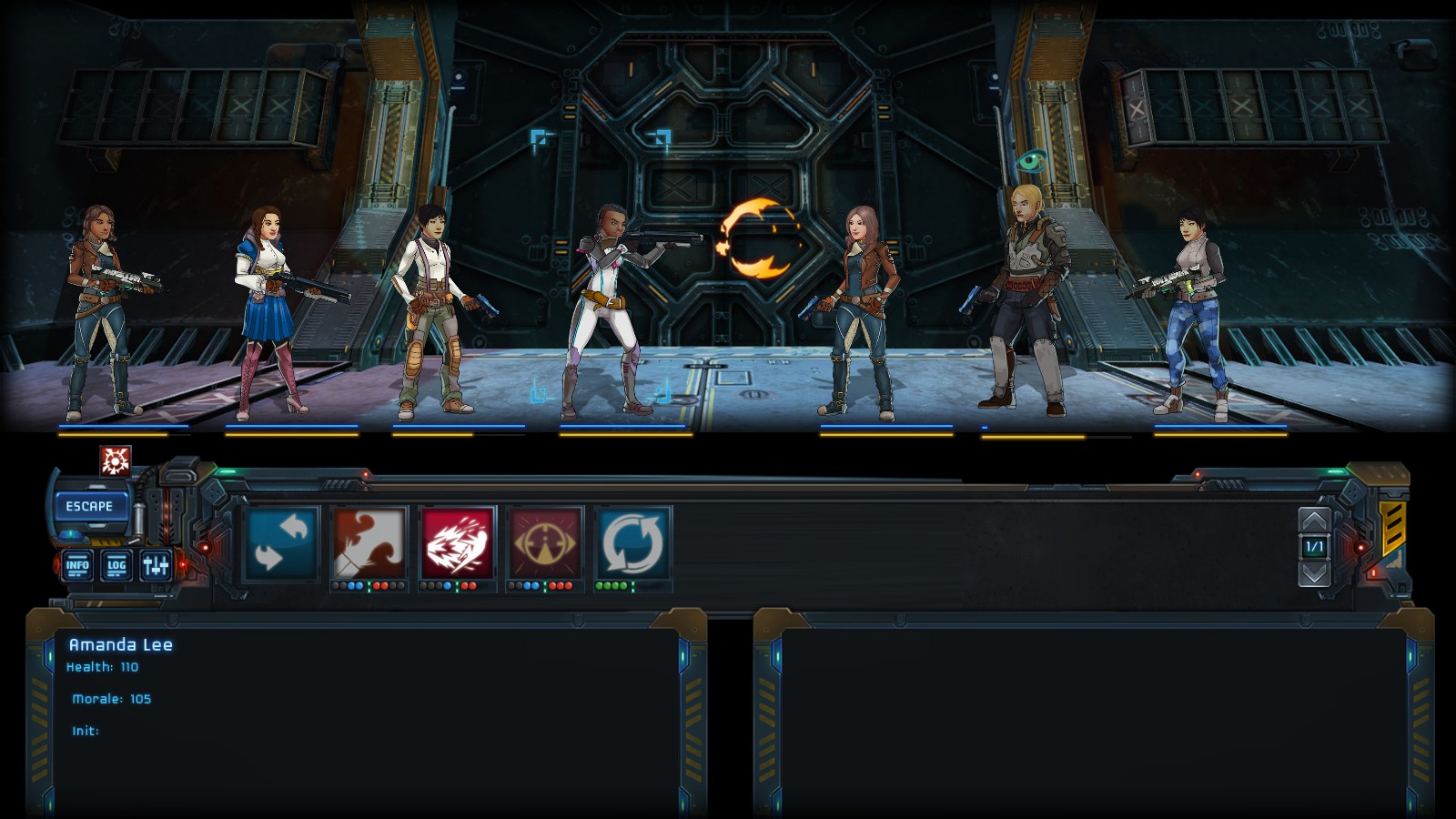 UI Improvements
We're still working on smaller things because a lot of our time is in crash and story bug resolution, but we've managed to cover a lot of the requests that came in over the last few days from Steam. Of course, there is always more to do and the list is VERY long, but we're proud to be moving quick on player requests!
The list is pretty long but you'll either see them in game or can read it all here!
Please leave a review if you appreciate the updates! :D
v2.0.9 - 11/19/2017
- New Rank 5 Soldier Talent Blowback added for shotgun specialists
- Looting Cargo from Pirates no longer causes Rep loss
- Any looting of Biowaste/Scrap does not cause Rep loss
- Looting un-permitted goods from Smuggler does not cause Rep loss
- Enemy Pirates never pay tribute for fear of looking weak before their crew
- Enemy AI are now flying the Longbow Cruiser and Lightbow Raptor
- Crew Payment now has an alert on it and causes the spice hall alert to be present as well
- Improved crew list, refresh of filters, officer badging, and visual for level-ready crew
- Destination waypoint circle always visible, fixed issues with distance to destination not updating
- Minor improvements to display of ship component and engine stats during upgrade (more coming)
- Fixed all crashes when opening Missions List
- Fixed bug in "Call for the Strong" story introduction
- Fixed bug in "Pirates Behind Every Star" story resolution
- Fixed bugs with Valencia storyline, looping, reappearing, etc
- Fixed Contacts sometimes dying during the middle of active story arcs
- Starport refreshes Upgrade / Refuel screens properly when switching ships or upgrading
- Improved keyboard arrows panning maps (Quad & Galaxy)
- Rebalanced mutiny threshold to avoid looping mutinies
- Improved keyboard support for opening/closing subviews (QARCX)
- Improved keyboard arrows panning map
- Fixed screens missing mousewheel support (Combat Views)
- Fixed issues with 1280x1024 resolution support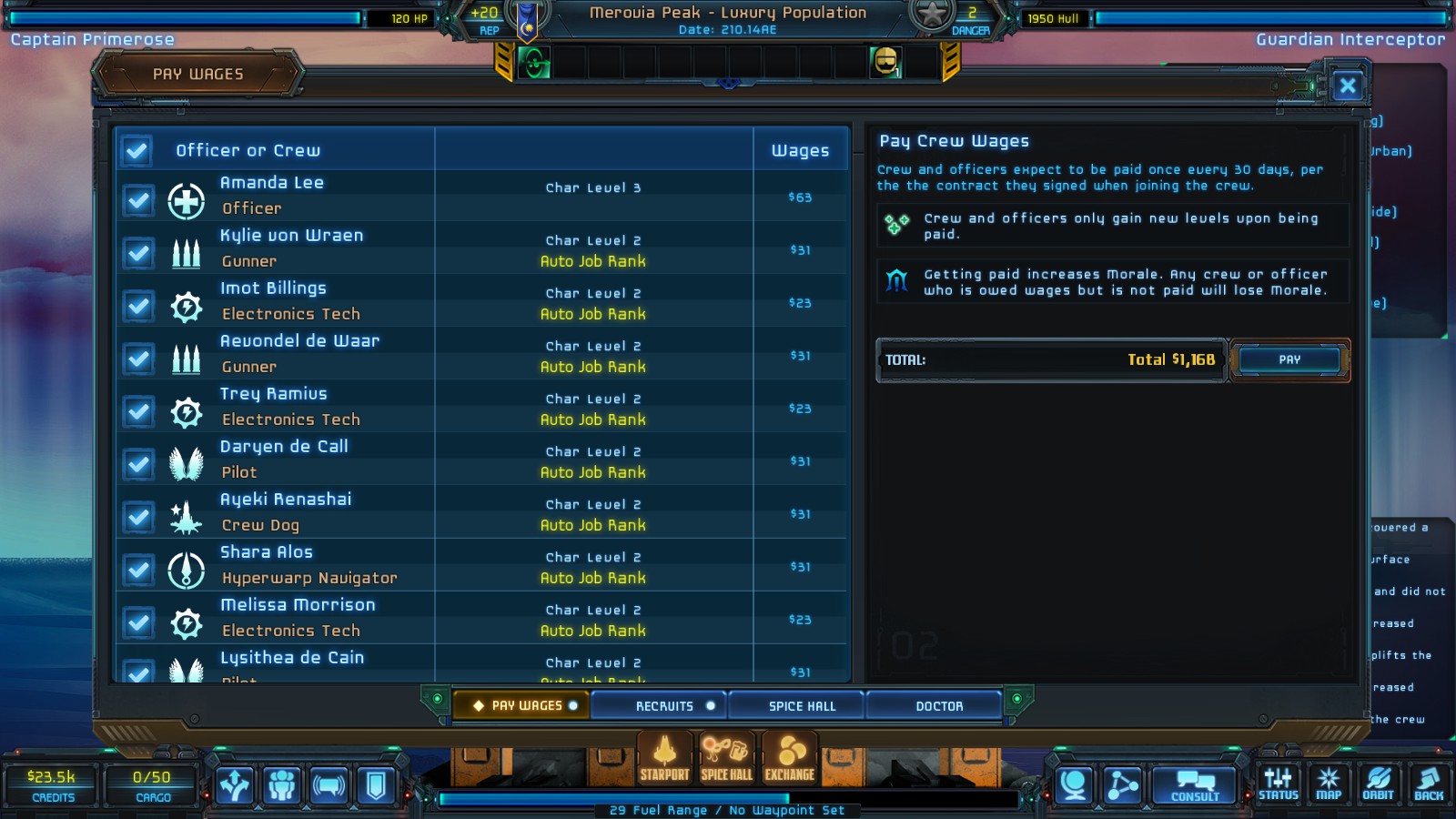 New alert on the payment screen