Star Traders: Frontiers Update #7: Honing the Edge
Red, flashing, unmissable HUD warning for no fuel
Today's update is all about balance and quality of life for our Captains. We are getting so much valuable feedback every day, and we are working our way through it as fast as two brothers can ;)
Update #7
delivers on a lot of the feedback we've heard right here on the forums -- so you have yourself or other Captains to thank for this great update!
We hope everyone will take a moment to leave a review on the game! Share it with a friend! Help us keep cranking out updates at a laughable pace :D
Join us in the void today Captains! Buy
Star Traders: Frontiers on Steam
.
Travel Rebalance and Improved HUD
The balance of the health, component and morale damage done by traveling checks has been one of the hottest topics of conversation and consternation. We've made small adjustments with the first six updates, but this updates makes the first big change to down-balance the number of crew who can be hit in any given event. In our testing, it has had big positive impact, especially on failed tests like Electronics which could result in really big chunks of the crew taking hits.
Furthermore, we added a critical warning to the HUD to help address concerns about the "morale death spiral" while traveling. If your Ship flies without Water-Fuel, your crew will lose Morale constantly. The updated HUD is loud and insistent with a warning, flashing at the bottom of the screen in red. You can't miss it -- and you need to buy fuel quick. Operating your Ship's Void reactor without a Water-Fuel containment pool is dangerous and doing so increases the chance of severe crew damage, drains morale and forces crew members to perform dangerous reclamation exercises to keep the ship going. It's bad -- a good Captain never does it.
Control Scheme Improvements
First, this update has improved mouse support for the main map. Panning on the map is now controlled by your left mouse button while right clicking will move your ship. Separating move and pan has been requested by a huge number of players and we are happy to simplify the scheme for everyone and matches the control scheme of many other popular games. For our players who have put in tons of hours already, this might take a little retraining, but we know its for the best.
We've increased the speed of hovers by 100 ms so they show up faster. As more tooltips are coming with each update, this will keep helping the learning curve issues we have. Also, we've fixed the annoying bug where some hovers would get stuck on screen after a scene transition.
Talent Rebalance
With feedback from players, we've started adjusting a few more Talent cooldowns and rules. Any Talent that can discover new Contacts have been set to higher cooldowns. The recruiting Talents from Commander and Military Officer have had their randomness removed -- so they simply effect the first recruit made -- so if you are using these (amazing) Talents, be sure to make your most important recruit first when you land somewhere looking for new crew.
Of course, there is so much more! Long distant missions have extended timelines. The options menu is now available without returning to the main menu. We've fixed some boarding Talent bugs. The Raptor has been moved out of the starting ships list due to the amount of feedback we got about it. More ship components have been switched over to be Faction specific.
As we start to get a handle on the long list of UI / QoL improvements, we'll be turning out attention to story and content expansion. Help us get there by sharing the game with a friend and leaving a review!
v2.0.19 - 11/28/2017
- Changed Ship Movement to Right Mouse Button, Scrolling/Pan on Left Mouse Button
- Revised accident damage levels during Electronics, Ship Ops, Navigation Tests
- HUD displays critical no fuel warning - you are losing Morale whenever traveling without fuel
- Boosted mouse hover speed by 100ms
- Fixed issue with tooltips getting stuck
- Additional Mission duration granted for missions with more than 6 jumps
- Fixes issue with Starport upgrade "All/Clear" buttons
- Fixes issue with spacebar in Hyperwarp Gate
- Increased cooldown time for all Talents that learn new Contacts
- Removed 50% + Command chance to improve Attributes on Recruiter's Eye and Discerning Glance Talents - first recruit gains bonus
- Fixed issue with Disarming Sabotage to destroy enemy weapon during boarding
- Removed "Raptor Class" from Starting Ship rotation
- Added Options menu to in-game map menu for faster access
- Fixed Chalicstine, starward of Ryeline
- Fixed bugs with selling weapons / armor / gear back to contacts
- Massive round of typo and text cleanups
- Javat ship upgrades: Resource Processor, Javat Mechi-Reaper
- Rychart ship upgrades: Depth Scanner Omega, Depth Scanner Omega-X
- Thulun ship upgrades: Orbital Fuel Scoop 3+
- Steel Song upgrades: Hyperion Exo-Suits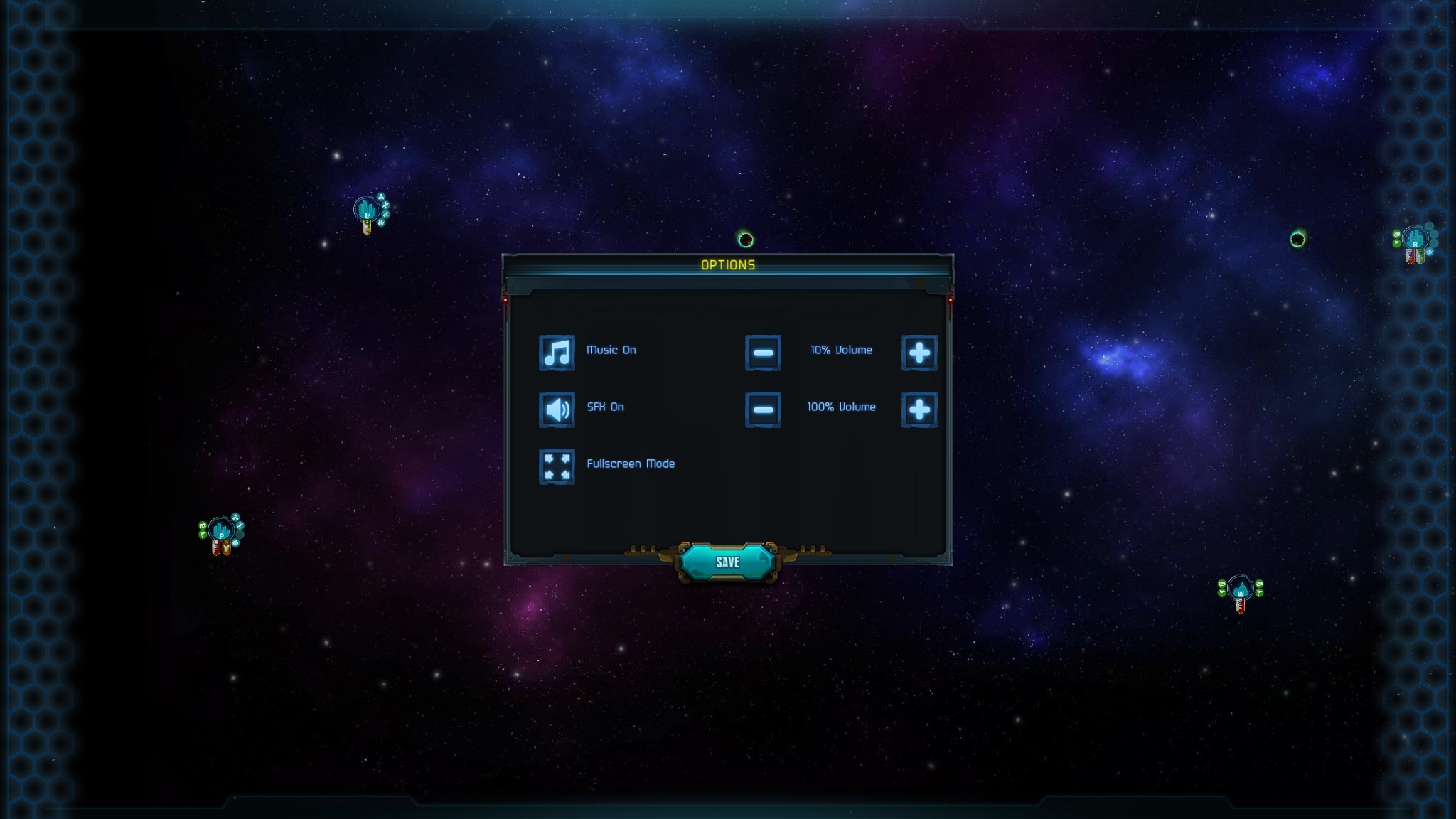 Tweak your options in-game