Star Traders: Frontiers Update #42: Far-Flung Denizens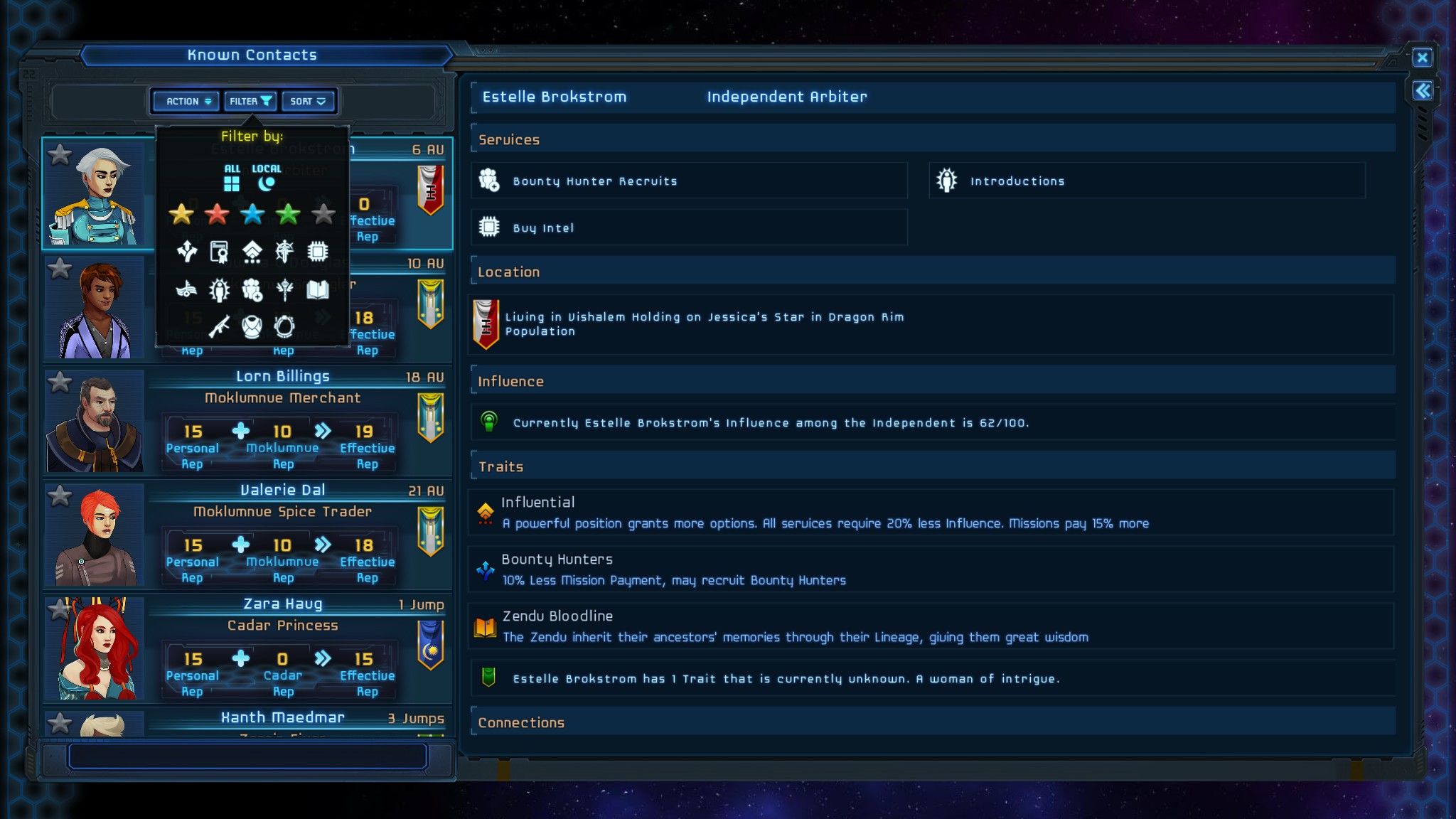 The galactic week begins and another
Star Traders: Frontiers
update comes rolling out of the factory! This one is packed full of highly requested features from players as well as some important crew combat balancing and a host of small tweaks and fixes. If you're enjoying the constant stream of updates, please leave a review!
If you're enjoying the constant stream of updates, please leave a review! Join us on
Steam
today!
Contact Service Filter
As your Captain becomes better connected, your list of Contacts will grow and so will the number of services you rely upon to get you work done as a Captain. Update #42 includes a very helpful filter-by-service option for Contacts, allow you to quickly look at the contacts who offer missions and then sort by distance for example. We are working toward a multi-filter capability, but we needed to get this capability into the game.
Crew Combat Init Talents & Tweaks
In preparation for a big set of changes to crew combat (which Cory has been previewing on our
Twitch channel
) we've been grinding hard to get everything right in the last few releases.
With Update #42, we've improved the way that "On Init" crew combat Talents work. At the start of each turn, one On Init Talent from each team is fired. We've improved the selection method to ensure that no repeat buffs happen and that each team gets the most out of their On Init buffs. Previously, it was possible that one character would fire their buff on repeat and other players would be left without theirs.
We've also tuned up the Stealth rules -- the AI now plays by the rules and the Sneak Attack Talent properly ends Stealth as it says it will on use.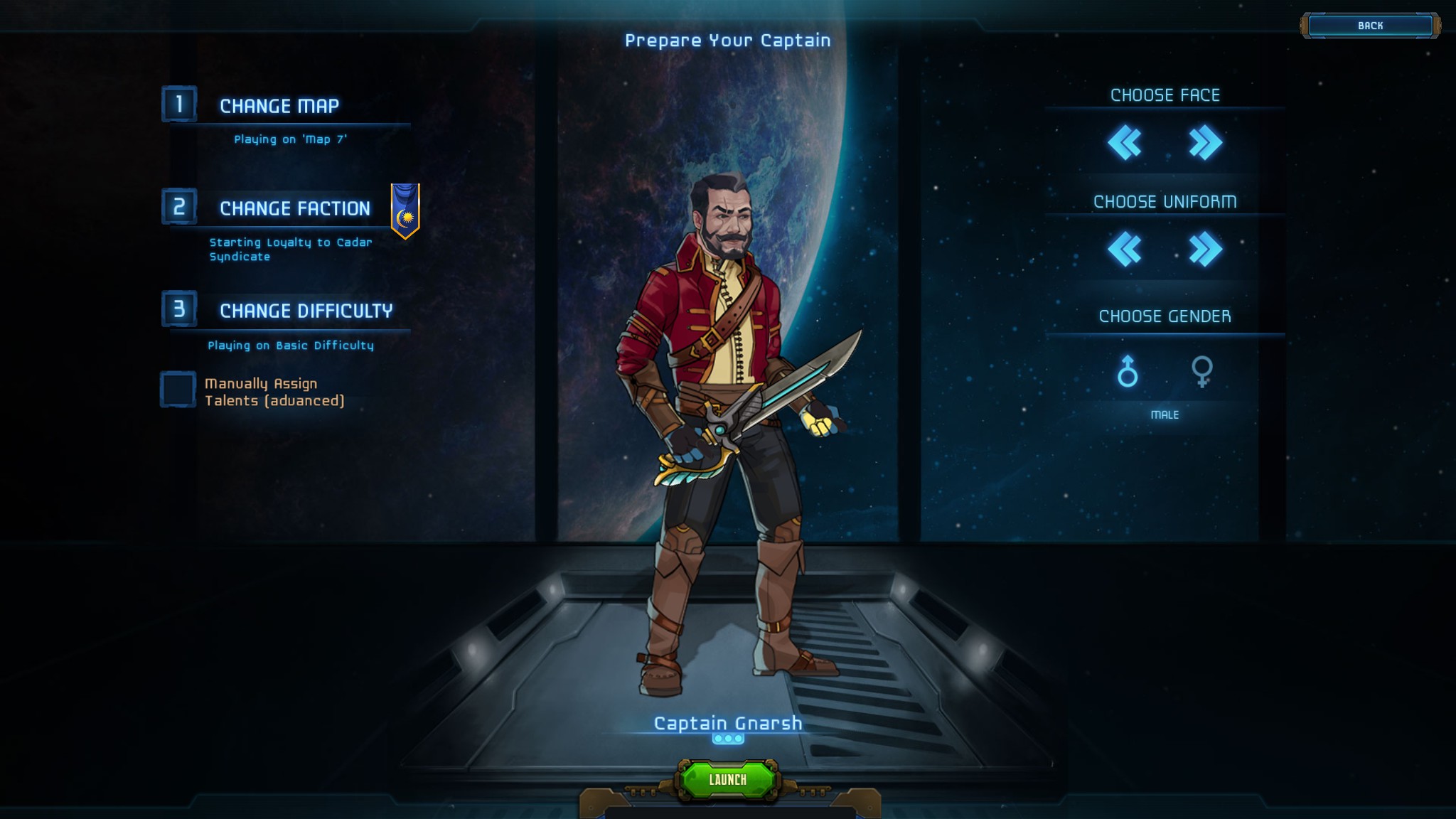 New Beard!
I mentioned to @bloodbeard a while back that we would add more bearded faces to the game. So, this has been a long time coming but we've added a rascal -- bearded and scarred just for him.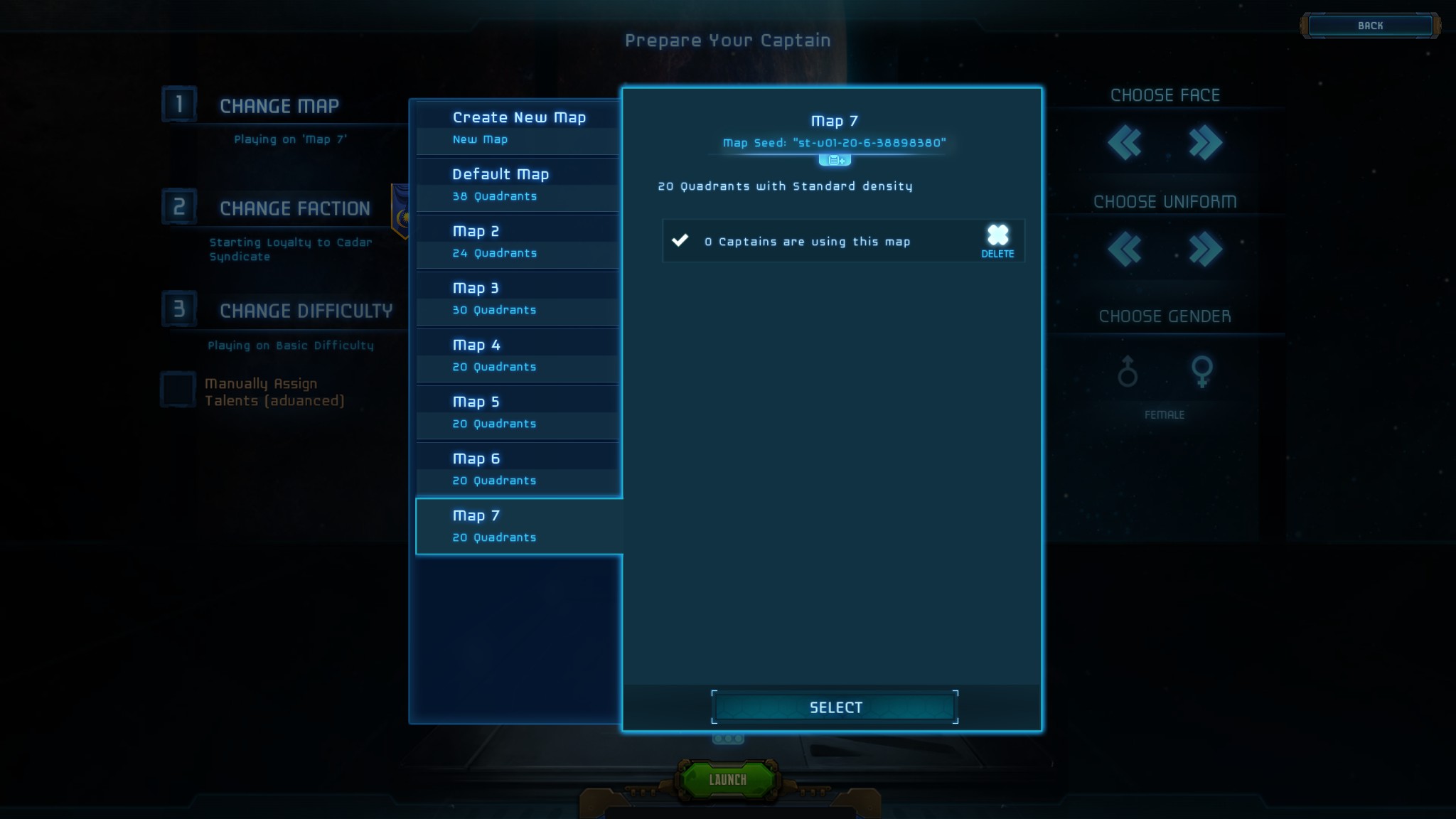 Delete Unused Maps
We've included the first phase of map deletion in Update #42. You can now permanently delete maps that do not have any Captains linked to them. In the future, we will remove this requirement and just allow you to delete any map (and recreate it by seed for the Captain as needed) but for now, we're excited to let everyone clean up their maps list!
If you're enjoying the constant stream of updates, please leave a review!
v2.2.7 - 3/6/2018
- Added Contact filter by services (Missions, Rank, Edict, Recruit, etc)
- Added ability to delete maps that no Captains are using
- Added new male character face with beard
- Improved selection of "On Init" Talents in Crew Combat - avoids repeat buffing, more characters get benefits
- Crew combat enemy AI correctly follows Stealth Rules
- Sneak Attack Spy attack Talent cancels Stealth correctly on use
- Fixed issue with relic De Rivesh Blade reporting "Wrong Weapon" for melee attacks
- Easier Route Planning: Added Quadrant Danger to Quadrant Map Hovers
- Expanded early game Rumor protection from Quarantine, Xeno and Radiation
- Fixed typos and reported crashes
- Fixed issues with hat placement like military beret
- Correctly disabled Stash button in Explorer when completing a mission